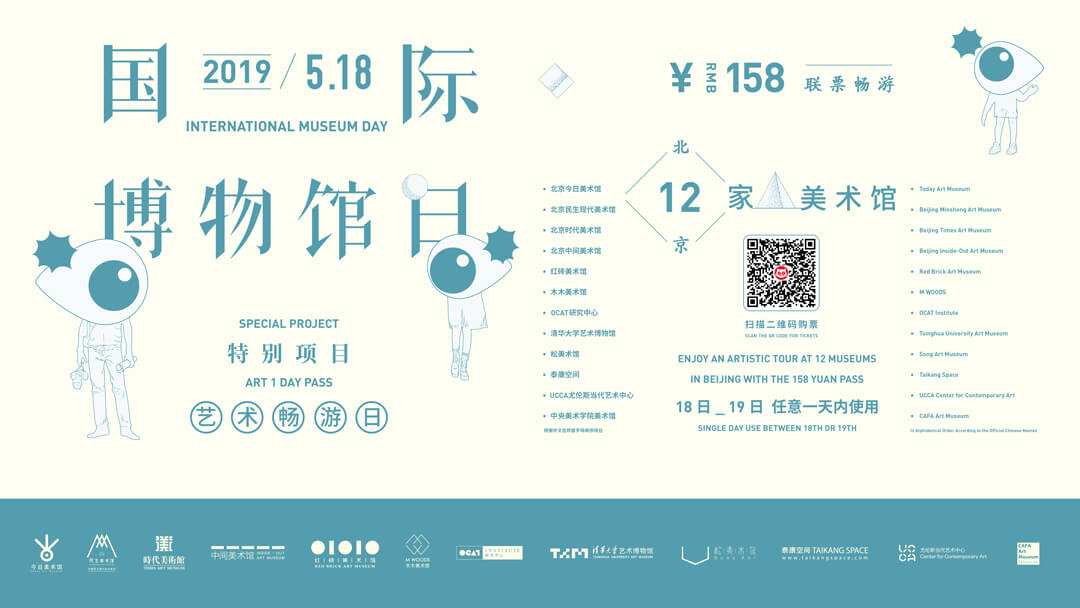 Art 1 Day Pass
2019.05.18 Saturday
Special Project for International Museum Day 2019 Jointly Presented by 12 Art Museums in Beijing 
In a program initiated by the International Council of Museums in 1977, May 18 is celebrated as International Museum Day. The theme of International Museum Day 2019 is "Museums as Cultural Hubs: The Future of Tradition," focusing on museums as new and active participants in the community. Beyond their principal functions of collection, preservation, exchange, research, and exhibition, the roles of museums in society are constantly changing, and museums are becoming more interactive, flexible, adaptable, and mobile, as well as more visitor- and community-oriented.
Building upon the idea that museums are places where visitors can "co-create, share, and interact," twelve art organizations from the Beijing area are jointly presenting, for the first time, the ART 1 DAY PASS. This special ticket for International Museum Day 2019 gives visitors admission to all twelve art museums on either May 18 or 19, so that visitors can spend the day experiencing art.
ART
1 DAY PASS
This special project was initiated by Red Brick Art Museum, and includes Today Art Museum, Beijing Minsheng Art Museum, Beijing Times Art Museum, Beijing Inside-Out Art Museum, Red Brick Art Museum, M WOODS, OCAT Institute, Tsinghua University Art Museum, Song Art Museum, Taikang Space, UCCA Center for Contemporary Art, and CAFA Art Museum . In a first-ever joint effort by these twelve art museums, this special project will promote cultural exchange in Beijing, actively encourage the public to learn about and experience art, and help visitors to discover the vitality that art museums bring to a constantly-shifting city.
Read all