(From left) Yan Shijie, founder and director of Red Brick Art Museum, Mrs. Bernell, and Robert Bernell, founder of Timezone 8, at the donation ceremony, 2019
Since the opening of the Archive Center in 2018, Red Brick Art Museum has received donations of books and archives from over thirty artists, art museums, galleries, and art media outlets. In addition to the museum's historical records and exhibition archives, the Center holds and continues to collect books, journals, and archives from Timezone 8, Taikang Space, Galleria Continua, ShanghART Gallery, Artforum, Artco China, and artists Xing Danwen, Huang Rui, and Xiao Lu, and etc.
A sketch on view during Olafur Eliasson: The Unspeakable Openness of Things, 2018
The Archive Center is devoted to studying, collecting, and preserving art archives, and making them accessible. The display of archived materials has been and will be an integral part of museum exhibitions. In previous shows, including Olafur Eliasson: The Unspeakable Openness of Things, Izumi Kato, and Andreas Mühe: Photography, the Museum collected and presented sketches, documentary photos, and other primary materials from the exhibiting artists. Those papers and documents bring us into the artists' specific art scenes and social contexts, allowing us to examine the artists' creative practices from different perspectives.
In Thousand-Armed Guanyin, an exhibition featuring the museum collection as of 2019, the museum displayed collected books and archival materials, and allowed visitors to peruse selected volumes.
Archives on view during Izumi Kato, 2018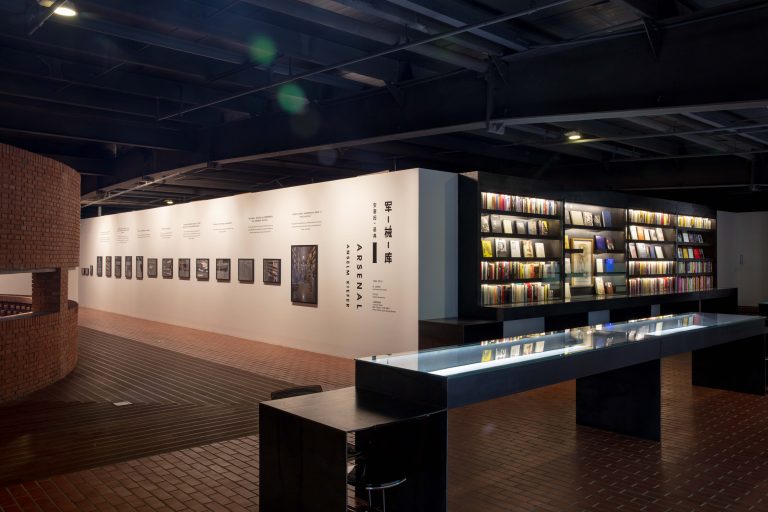 Collected books and archives on view during Thousand-Armed Guanyin, 2019
In the future, the Archive Center will concentrate on collecting, archiving, and researching primary materials related to the history of contemporary art in general and Chinese contemporary art in particular. As an indispensable part of the museum, the Center intends to digitize the books and archives in the collection, making these essential resources available to artists, art historians, curators, and the general public.
If you are interested in collaborating with the Archive Center or making a donation, please contact us for more information.
Email to: archive@redbrickartmuseum.org
Archives on view during Sarah Lucas, 2019