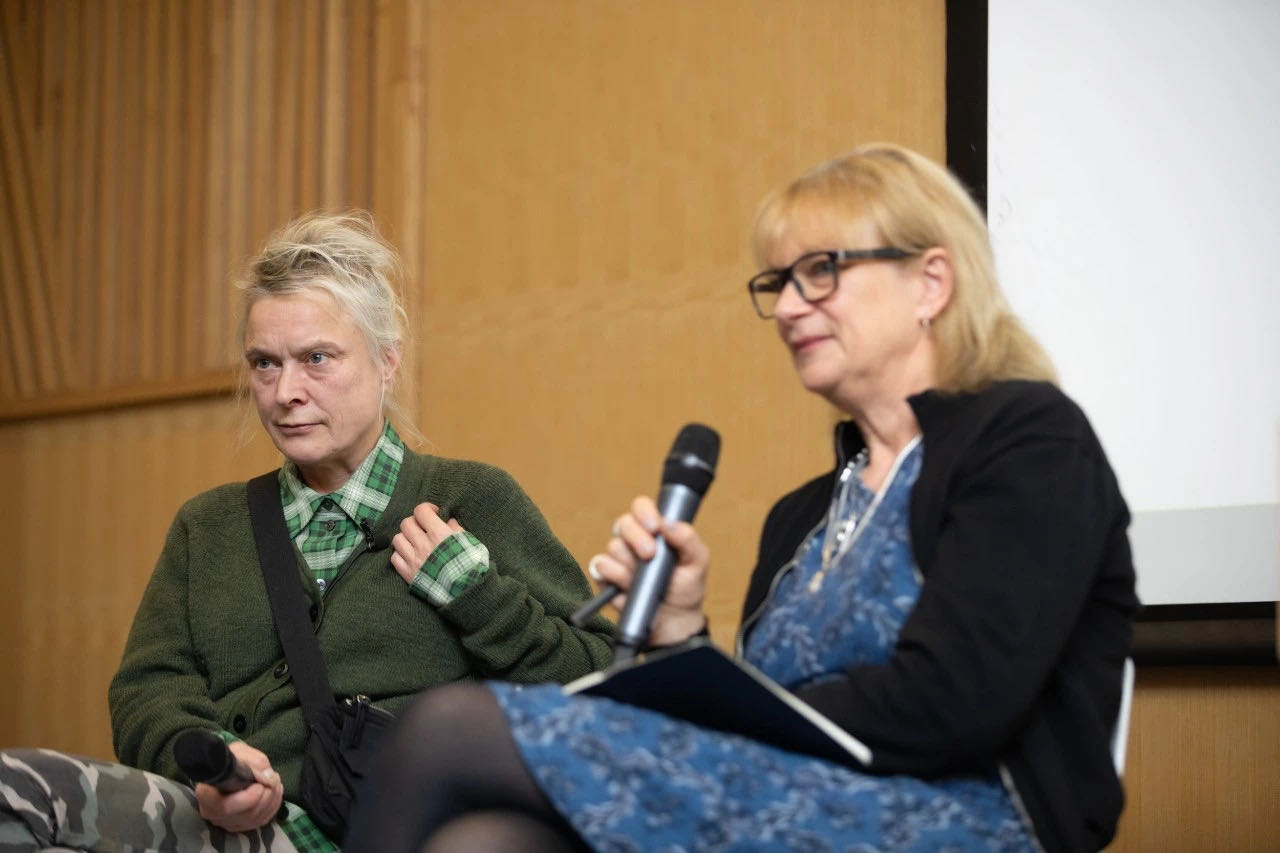 Sarah Lucas: Unplugged
2019.11.02 Saturday 1:30 PM - 3:30 PM
In colloquial term, unplugged can be understood as presented in a more low-key and intimate context than usual, Louisa Buck stressed that the dialogue will be conducted in a spontaneous and informal manner, like a conversation between two good friends, giving the audience an intimate portrait of this radical artist.
In this dialogue, Sarah Lucas and Louisa Buck will talk about the ongoing solo exhibition at the Red Brick Art Museum, considered by Lucas as the self-review of a thirty-year long career. They will talk about Lucas' inspirations, concepts and their formation and evolvement, the artist's choice of material, her creation process as well as her favorite method of combination; while also paying attention to the way she selected the exhibits in the context of her first solo exhibition in China.
________________________________________
Participants:
Sarah Lucas
Sarah Lucas (b. 1962, London) studied at the Working Men's College (1982–3), London College of Printing (1983–4), and Goldsmith's College (1984–7). Her work was the subject of a major retrospective at the Hammer Museum, Los Angeles (June to September 2019), travelling from the New Museum, New York (September 2018 to January 2019, accompanied by a catalogue).
Following her participation in the seminal group show 'Freeze' (1988), early solo shows included a presentation at the artist-run gallery City Racing, London, and 'The Whole Joke', Kingly Street, London (both 1992). In 1993 she collaborated with Tracey Emin on The Shop, a six-month venture on Bethnal Green Road.
Over the last decade, her exhibitions and residencies have included 'LUCAS BOSCH GELATIN', Kunsthalle Krems, Austria (2011); 'NUDS', Museo Diego Rivera Anahuacalli, Mexico City (2012; a project that was subsequently chronicled in the encyclopedic book TITTIPUISSIDAD); and 'Ordinary Things', Henry Moore Institute, Leeds (2012). From 2012-13, SITUATION – a space dedicated to her work at Sadie Coles, London – hosted eight consecutive shows. 2012 also saw the publication of After 2005 – Before 2012, a publication chronicling the artist's work over seven prolific years since the publication of her 2005 catalogue raisonné. In 2013 she had a major retrospective at the Whitechapel Gallery, London (2013), which was followed by surveys of her work at Secession in Vienna (2013-14) and at Tramway in Glasgow (2014). In 2015 she represented Britain at the Venice Biennale, with the exhibition 'I SCREAM DADDIO' (accompanied by a book authored by the artist), which was followed by exhibitions at Sir John Soane's Museum, London – 'POWER IN WOMAN' (2016); and Humber Street Gallery, Hull, UK (2017).
Louisa Buck
Louisa Buck is a writer and broadcaster on contemporary art. She has been London Contemporary Art Correspondent for The Art Newspaper since 1997 and is a regular reviewer on BBC radio and TV.
She is the author of a number of catalogue essays for institutions including Tate, Whitechapel Gallery, ICA London and the Stedelijk Museum in Amsterdam.
Her books include Moving Targets 2: A User's Guide to British Art Now (Tate 2000); Market Matters: The Dynamics of the Contemporary Art Market (Arts Council England 2004) and Owning Art: The Contemporary Art Collector's Handbook (co-authored with Judith Greer) (Cultureshock Media 2006). Commissioning Contemporary Art: A Handbook for Curators, Collectors and Artists was published by Thames & Hudson in October 2012 and in 2016 she authored 'The Going Public Report' commissioned by Museums Sheffield.
Louisa was a judge for the 2005 Turner Prize.
Read all
Speaker:
Sarah Lucas
Louisa Buck
Date and Time:
1:30 pm-3:30pm, 2 November, 2019
Venue:
Lecture Hall, Building 7(First Floor), CAFA
Organized by:
Red Brick Art Museum
CAFA School of Arts Administration and Education